So here's my situation: I've got a beat up Epiphone Les Paul (muddy pickups that cut out, a missing tuning peg and buzzing strings) and don't want to spend a fortune on repairs, let alone a new guitar.
Inspired by the do it yourself (DIY) punk rock ethos detailed in the pages of Michael Azerrad's Our Band Could Be Your Life (the latest stock market reports didn't hurt, either), I decided to take matters into my own hands and set out about repairing it myself. (What's the worst that could happen? It's only electricity, darn it!) Keep in mind that I have no related experience and have been too timid to even crack open the paneling and look at the electronics inside.
The first step, I decided, would be to pick out a new pickup. Naturally, I went to Guitar Center. When I told the sales associate I wanted something a bit brighter sounding, he suggested a Gibson Burstbucker II, for $129.99. Fair enough. However, I drew the line when I found that I'd have to drop around $70 for an entire set of new tuners.
Leaving Guitar Center, I decided to be a bit more adventurous and visited The Trading Musician on Roosevelt Way, near the U-District. If its name was any indication, I figured they might have some miscellaneous individual tuning pegs that would do the trick for a more reasonable price. Calling ahead in advance confirmed my suspicions.
Once there, I also discovered a treasure trove of new and used pickups; Seymour Duncan P-Rails and Pearly Gates floating to the top of the stack.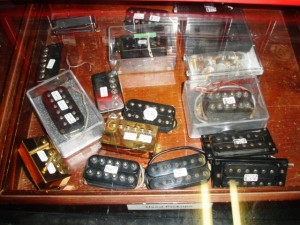 However, since I had a gift certificate for $50, I decided to stay within those bounds for the time being and settled on a used DiMarzio 159, priced at $39.99 (which I later found online selling for closer to $100).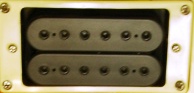 Unfortunately, none of the tuning pegs were a match for my guitar. They had a ton of Gibson varietals which may have worked, but, alas, only one oriented for the bass side of the guitar. And that was a Gibson Deluxe; too fat to fit through the hole in the headstock.
Returning home, fully armed, I realized that my work had only just begun. Many questions remained unanswered: Why, for example, did my new pickup have four wires protruding, when my old one only had two? What the heck was I gonna do about my missing tuning peg and the buzzing strings? And what in the world is this soldering thing all about?
Up next:
DIY Blues, Pt 3: Touched for the very first time
I finally pull back the veil on my guitar and get the shock of a lifetime.
Previously:
DIY Blues, Pt 1: Reviving a dead guitar
With nearly empty wallet, I set out to fix a seriously impaired guitar