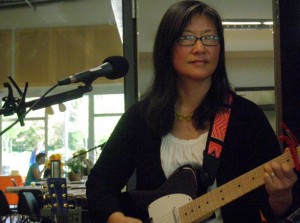 Jillian Graham is a talented singer and songwriter who has been an active member of Songwriters in Seattle for over a year now. Her powerful and smooth alto voice has been compared to Chrissie Hynde, Martina McBride, Joan Baez and Natalie Merchant. Jillian's songs describe love, loss & hope, and relating to others and the world we share. She captures thoughts, feelings and observations in a disarming and introspective way. Her delivery is powerful yet sensitive.
Jillian has played all over Seattle both as a solo artist and with her band. In 2010 Jillian visited Seoul Korea and sang on radio and at an international Korean adoptee gathering. In the SiS podcast below, Jillian tells some fascinating stories about taking her American folk music back to Korea during this trip. She especially enjoys playing venues that benefit the community and important causes. Jillian also provides back-up vocals and rhythm guitar for local artists and bands.
Also in the podcast, we hear some music off her new album Movin' On, including an in-studio live performance. Please be sure you check out jilliangrahammusic.com for details and the latest happenings with Jillian and her band.
Listen to the SiS podcast featuring Jillian:
Audio clip: Adobe Flash Player (version 9 or above) is required to play this audio clip. Download the latest version here. You also need to have JavaScript enabled in your browser.

Click the play icon above to stream, or click here to download