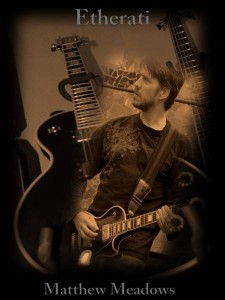 Matthew Meadows is a rock guitarist and singer with a background in computer programming and ballet dancing. This is one smart and talented guy! His latest recorded collection of songs, Etherati, is making waves as he puts his tech skills to use with tireless online promotion. Matthew rocks and many people are taking notice! He's played in a number of bands, both in Seattle as well as his former home of Austin, TX, but mostly pushes on these days as a solo artist. What exciting musical conquests does Matthew have in mind for the future? Learn more about him (and connect with him) on his Reverbnation page. He's even got a new tune called "The Ringmaster" – check it out!
His YouTube channel has some really interesting raw takes and crazy guitar shredding! You can view and subscribe here.
Lastly, Matthew's SiS podcast visit was a lot of fun as he walked us through not only his music, but how he approaches promotion and connecting with the right people in the industry. You can listen to that here.