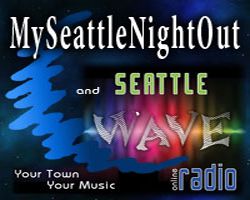 That's where Linda and Mark Gordon of the nationwide NightOut Radio and website platforms come in. Focusing solely on local artists, Linda and Mark have put together a great bands section and a 24/7 radio station with 6 channels currently, featuring only local artists. Their eventual goal is 16 channels. With thousands of listeners and users this site is a MUST for all Songwriters in Seattle members with "Radio Ready" music.
Not only reaching the Seattle crowd, there are "NightOut" websites and radio stations located in hundreds of major cities throughout the US (and the list just keeps growing) which are basing their programming on what Mark and Linda have started.
———————————————————–
2. From the top right menu select "Register"
3. Where it says "Business Name" type in your "Band Name", "Stage Name", or your own name. (Whatever name you're using to promote you or your band).
4. Username, email, and phone should be self explanatory.
5. Password is randomly generated or you can type in your own.
6. If you're signing up due to this article,be sure to select "Other" for "How did you hear about us" and type in "Songwriters in Seattle."
7. Then click "submit"
8. This brings you to a login screen – select "Login."
9. Under Category select "Bands" and fill out all appropriate info.
((Coming next week: An interview with Linda and Mark Gordon of MySeattleNightOut.))