Songwriters in Seattle is proud to be planning the 2013 Northwest Music Experience convention and expo. Teaming up with other key organizations in the community such as Seattle WAVE Radio and Music Aid Northwest, SiS member volunteers have played a large part in getting this exciting project underway. There is a lot in progress right now, and there are many ways you can be a part of making it happen. First, you can go to the NWME Facebook page and join the discussion – also while you're there, take a quick survey and be entered to win a $150 gift certificate from Pacific Music!
So, what is this conference all about? Here's the overview: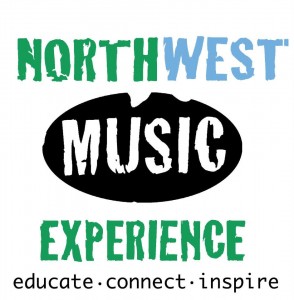 Northwest Music Experience is a convention/expo for musicians and industry professionals to develop and promote performance, as well as inspire and connect in community.
Over a three day weekend in the city of Seattle, NWME will provide an environment of collaboration and inspiration between musicians, music industry professionals, and music fans. Musicians of every age, experience and skill level will find the tools they need to enhance their creativity, boost their productivity, hone their delivery, and find support and community. With keynotes, panels and breakout sessions as well as an industry packed expo floor during the day and performance showcases at local venues in the evening, NWME packs a lot into just a few days. Participants come to network, perform, learn, do business and enjoy the community of other artists and their fans. The goal is for this event to become an annual showcase of regional talent with a sprinkling of the best from the national and international music community, drawing speakers and attendees not only from the western region of the United States, but from around the world.
Summary of key event activities:
o 2 days of packed music education and business tracks
o 3 nights of live music at local venues featuring the best of the Northwest and beyond
o Music industry expo floor featuring top brands for gear, services, and more
o Friday youth music events
o Friday evening VIP reception/gala at EMP honoring local music celebrities
o Saturday morning keynote (speakers TBD)
What makes NWME different from other Northwest region music events?
o Created and run by musicians, NWME is organized under a non-profit organization, Songwriters in Seattle…
o …with the goal of supporting and nurturing musicians, not making money from them.
o The only NW music event that combines education, industry expo, and public performance across all genres and interests.
o NWME focuses on the independent musician and music professional's complete needs, from licensing and copyrighting to performance and home studio recording.
o A welcoming and supportive environment for musicians with a variety of levels of experience and goals, whether it's weekend hobbyist or making a fulltime living as an artist.
o Genuine and honest feedback from professionals and peers.
This is bound to be an incredible event for our creative community, and with our combined efforts will be a lasting annual event for years to come. Get involved now!