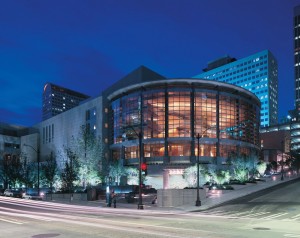 Songwriters in Seattle is proud to announce an exciting partnership with Benaroya Hall that will bring the inaugural Northwest Music Experience (NWME) conference and expo into their beautiful downtown venue.
Benaroya Hall is the place to be August 16-18, 2013 for this multi-genre music education, expo, and performance event. There is currently nothing like it in the Pacific Northwest; an event that brings musicians, fans, and industry luminaries together for one unforgettable summer weekend.
Highlights include: a keynote address, expo floor, VIP party in the Grand Lobby, closing ceremonies, and featured performances in the S. Mark Taper Foundation Auditorium. There are plans for up to 5 parallel educational sessions and performances at Benaroya Hall's Illsley Ball Nordstrom Recital Hall and intimate reception and lecture spaces.
NWME 2013 promises to be a music community event you won't want to miss!
"Benaroya Hall is a stunning and versatile venue that fits the Northwest Music Experience vision perfectly," says Songwriters in Seattle Organizer and NWME Chairperson Chris Klimecky, "It will bring everything we need under one roof, and of course everything will sound amazing. This is an ideal place to hear and be heard in the Pacific Northwest."
Troy Skubitz, Director of Benaroya Hall, adds, "Events like these are critical to the growth of the Northwest music community. We recognize the value of music conferences and are thrilled to host and partner with Songwriters in Seattle."
For more information about NWME and the current campaign to raise seed capital for the event, please visit:
http://www.indiegogo.com/nwme
Benaroya Hall:
http://www.benaroyahall.org